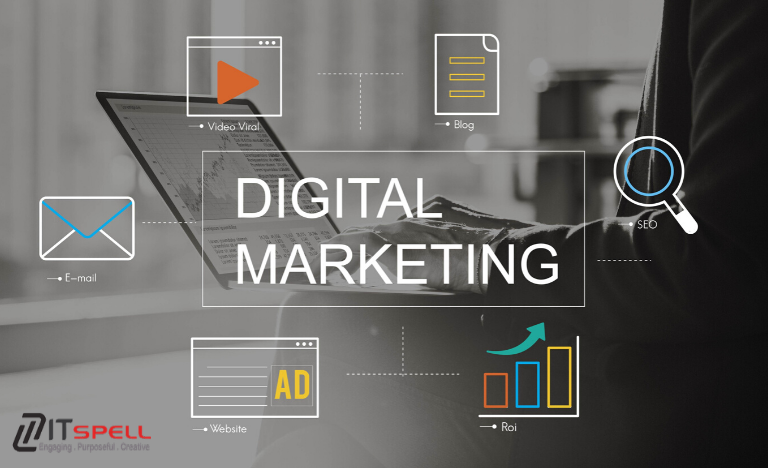 Brand awareness is a crucial part of any small business, likely not everyone has that much enough budget for large scale advertising. Also, lots of customers are more interested in what's online rather than offline. Today we will learn how digital marketing strategies can increase your brand awareness and can be a top brand here. With the help of Digital Marketing tools and techniques, business owners have the best opportunities for competition, survival and even business extension.
iTspell Technologies, the best Digital Marketing Company in Delhi, has a line down some key reasons which explains why internet marketing is important and increase your brand awareness for businesses today–
1. Maintain the level between big & small companies
Digital Marketing gives small & medium companies with the platform to compete against the big brands and collect their fair percentage of targeted traffic. It offers them the needed resources to perform sales & marketing processes that were previously limited to huge corporations and can effectively engage with multiple customers, locally or globally.
2. Cost-Effective Medium
Since small businesses have tiny resources & sometimes even capitalization, so Digital Marketing provides them with a better and cost-effective marketing channel that gives results than traditional marketing.
3

. Increases Conversions
The success of online marketing of business services and products is estimated based on the percentage rate of incoming traffic that goes converted into leads, subscribers or sales, depending on the planned purposes of your website. Without this conversion, all the traffic and marketing attempts are all waste. Using digital tools & techniques such as SEO Services, Social Media Optimization, Social Media Marketing, and Email Marketing, one can create quick and effective communication and interaction with targeted audiences, which gives average results in terms of higher conversion rates. 
4. Generate Better Revenues
Massive conversion rates indicate profitable advantages for your business in terms of better & higher revenues and much revenue means the chance for small & medium companies to grow their manpower & businesses, both locally and globally.
5. Platform to get in touch with your Targeted Audience
Digital marketing tools give you the platform to get in touch with your targeted audiences in real-time, thus, offer you an insight into what your targeted audiences want. This helps you make the right decisions and enhance your services to present your customers with the best experience, develop good relationships with them and obtain their trust.
6. Builds Brand Reputation
In case of making your brand the best brand electronically, your targeted audience plays an important role. If you present what you propose & promised, then this will help you make a better relationship with your targeted audiences. This will show beneficial for your brand reputation, as satisfied customers will most probably tell other people about their experience with your brand. Therefore, further opening new doors of possibilities for leading bigger markets and attain business growth.
7. Better ROI for Your Marketing Investments
With higher revenues & better branding, you get a better Return on Investments (ROI). The more extra data and the higher traffic you generate, the bigger your ROI will be. We, being the top Digital Marketing Company in Noida, are well versed with a wide range of web technologies and are capable enough to fulfill every requirement of responsive websites.
Also, you can outsource the Digital Marketing Agency to take care of advertisement or brand awareness part of your business.
Share this post?